| | |
| --- | --- |
| The Slave Pit is active again | January 8, 2005 |
Come see the Art of GWAR at ArtSpace in Richmond, VA from January 27 - February 19. For those that attended the art show in NYC, this will be a similar event showcasing 20 years of art from the Slave Pit Inc. artists. The opening reception will be held on January, 27 from 7:00pm till 10:00pm. where many of the artists will be in attendance.
For more information visit the Artspace website
Chuck Varga, one of the founders of the Slave Pit, has a new website available. The website is more of an online resume but also provides interesting information about the man known as Sexicutioner on-stage. Chuck brought a lot of talent and entertainment to Slave Pit Inc. and GWAR and now resides in NYC where he works as a special effects technician.
Bob Gorman's new website is now online. It's been sitting idle for quite a while but Bob is a busy guy of course, which is prevalent by the plethora of items displayed on his website. Bob shows off his work on bicycles, Mopar toys, illustrations, as well as a couple infamous GWAR props.
More new items to come soon, as GWAR is now off tour. We hope to add a few new pictures to the site as well as a general update. Maybe one of these days we'll offer some merchandise to sell for those interested in prints or other various Slave Pit Inc items. Would you like to see some
If there's something you'd like to see or learn about the Slave Pit, email webmaster at slavepitinc.com
| | |
| --- | --- |
| GWAR Figurines | April 8, 2005 |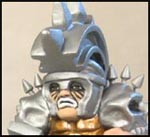 Don Drakulich aka Sleazy P. Martini, brings forth his latest sculptures in the form of GWAR figures. These are a definite must for the hardcore GWAR collector. Don is selling these primarily through Ebay currently, so keep your mouse pointed in that direction. As of right now there are none for sale but keep an eye out for when more are made. Some people have already gotten their hands on these great little collectibles.
For those interested, Don specializes in scuplture, video production, and costume fabrication through his company Hypereal Productions. Visit his profile or his website for more information.
High-resolution pictures of the figurines may be found below (opens a new window)
| | |
| --- | --- |
| DavisBradley.com goes live | October 11, 2004 |
Adult Swim honored Davis Bradley opens his new website to the public. He showcases most of the projects that he's had a hand in over the years, both with and without GWAR. Head over to DavisBradley.com and check out his work.
| | |
| --- | --- |
| Davis is honored on Adult Swim (again) and Mensrea opens for GWAR | October 4, 2004 |
Davis Bradley is back at it again with another sculpture presented to Cartoon Network's Adult Swim. This time a sculpture for Sealab 2021, Davis captures the essence of the Barbobot. Keep an eye out for the sculpture shown before Sealab airs. Soon Davis will be opening his own website showing off the finer details of his cynical nature as well as some artwork that he's conjured up over the past years

In other news, Mensrea gains an opening spot for the upcoming GWAR tour. There are only five of these shows, so check the tour info page for the locations, and be sure to check these guys out! All other information concerning the GWAR tour and the upcoming "War Party" CD release can be found on GWAR.net.
| | |
| --- | --- |
| Gorman takes on ChewOnThis Magazine | August 17, 2004 |
Bob Gorman is interviewed in a well done pop-culture style mag based in Richmond, VA, called Chew On This. Bob offers some thoughts on his role in GWAR and the editors offer some thought provoking photos of cute women with scary monsters. All-in-all an interesting 3-page read for those with a short attention span.

"We argue a bit but what it comes down to ultimately is a compromise. Everything is a compromise; even working at McDonalds there are compromises. This is less of a compromise. Iíve done plenty of other jobs outside of GWAR, but I keep coming back because itís how people know me. When people see my art, they know it because theyíve seen it in concert, on t-shirts, and in comic books. Itís the coolest thing Iíve done and Iím very aware of that. I love it."
If you're local to Richmond feel free to snag a copy, or for the non-local and computer savvy there is an Adobe Acrobat version (4 mb .PDF) and an I-Pod version (34 Kb .sit) available for download from their website.
| | |
| --- | --- |
| Mensrea Tour, GWAR signs with DRT | July 5 , 2004 |
Mensrea (feat. Cory Smoot) is quickly filling out some dates across the east. Support the scene, as well as some Slave Pit musicians, and attend some of these shows. More dates and information will be posted as soon as it is available.
In other news, GWAR signs a new contract with DRT Entertainment. For more information head over to GWAR.net
| | |
| --- | --- |
| Davis Bradley on Adult Swim | May 27, 2004 |
Esteemed Slave Pit artist, Davis Bradley, has some of his sculpture work currently being broadcast on Adult Swim right before Aqua Teen Hunger Force. His artwork is a sculpture of the comical main characters of ATHF. Any further relevant information regarding this will be posted here!
| | |
| --- | --- |
| SlavePitInc.com goes live | April 20, 2004 |
Greetings from SlavePitInc.com. We're proud to present a look inside the artistically and musically inclined production facility known as the Slave Pit, its history, and the people involved in its creation. The Slave Pit encompasses many individuals and numerous projects all at once. This website was established as an information hub for everything associated with the Slave Pit, past or present. We're presenting a current roster of everyone that is actively involved in the Slave Pit along with a bio and contact information for business related inquiries. The same information is available for the various side bands that have been generated by the talented musicians of Slave Pit Inc.
This site is meant to be informative and business related but at the same time entertaining to those that are looking for more information on GWAR and the people that are behind the scenes. Slavepitinc.com will also have merchandise in the near future featuring artwork and merchandise that is related to a specific person or their side project. There is also a photo gallery of what actually goes on behind the scenes at the Slave Pit. Links to bands and individual websites are available as well. Please feel free to use the micro-banners for your own website and spread the network of the Slave Pit empire.
We hope that you'll continue to visit this website as it grows with new information regarding the development of Slave Pit Inc. We'll keep you up to date on happenings of relevant information pertaining to the artists and musicians of this unique collaboration in the entertainment industry.